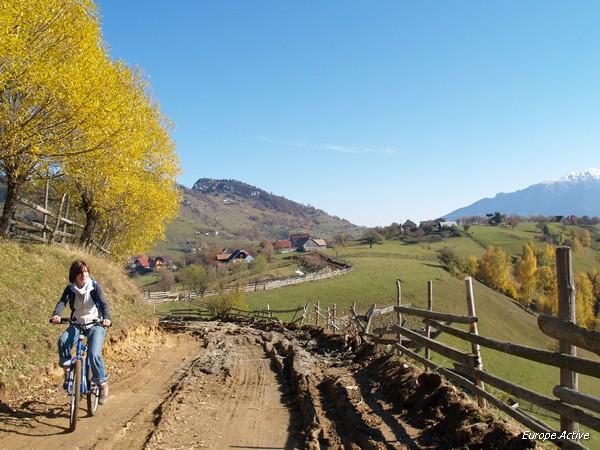 Discover Maramures by bike
9 days / 8 nights
Romania - Transylvania - Leisure cycling - Self-guided
Without guide
price from
519 €
per pers.
Maramures is situated in a depression in the heart of the Romanian's Northwest Carpathian Mountains. The inhabitants of this region have known how to preserve their traditions and their folklore and you can admire their woollen traditional costumes, the flowery skirts, the coloured women head scarves and the traditional men hats.
Although bordered by Ukraine, Hungary and Transylvania, Maramures presents an unmistakably cultural unity. One of the most clear aspects of this common heritage is the architecture: here, the majority of houses are wooden built, according to an ancestral and proven technique. Each village counts at least one few centuries old wooden church. Some of them are even registered as a UNESCO world heritage site.
The region lives essentially on its natural resources, especially on the farming and on the forest exploitation. Come and discover the sweet hills and fields covered with flowers during the spring time, and forests with plenty of mushrooms and wild berries. The fieldworks reflect the seasons and add an undated charm to this bucolic region.
Your day by day program
Reception in Bucharest
Arrival in Bucharest. Depending on the arrival time, possible tour of the city which was nicknamed "Paris of the Eastern Europe" during the "Belle Époque". Transfer to the Northern train station and travel by night train (5.30 PM, first class sleeping car wagon) to Maramures.
Immersion in Maramures
Arrival in Sighetu Marmatiei at 7 AM. Our host waits for us to take the luggage and give us the bicycles. We begin our adventure with a route which will bring us in a charming traditional small village. We will stop on our way to see various sights, notably a wooden votive cross sculptured in the 16th century, as well as a wooden church protected by UNESCO. Night in a guest-house.
Discovery of the traditional environment
Today, our route will bring us through typical and charming villages of the region. We can admire houses, churches and monumental portals with symbolic or everyday life scenes carved in wood.
Bucolic landscape
A cycling day which will make us go down the Iza Valley. Then we will cross hills by a bucolic road to reach the Viseu Valley. This route will offer us an exceptional panorama on the beautiful Maramures landscapes. We can visit along the way "Casa Deac Mosu" a wooden house built in 1760 which has the rare status of "inhabited museum".
Steam train
Today we leave our cycles to take the last functional steam train in the country! This forest train will allow us to discover, thanks to its plan and its casual rhythm, a wild nature which shelters an extremely rich flora, and also bears, wolves and lynxes.
Woodworking and woolcraft
We get on our cycles to return to Iza Valley. We will stop in a small village to discover the oldest wooden church of the region, set up to the 14th century, as well as a small museum of local crafts. We'll arrive, at the end of our route, in the traditional village of Botiza, known for its coloured carpets with vegetable dyes, and can attend a demonstration of weaving by a highly skilled craftswoman.
Traditionnal villages
Our last day of cycle will take us through small traditional villages and thus we can admire, for the last time, life scenes long gone from western countries, but which remain vivid here. We will stop along the way to visit the incredible Barsana Monastery. A convent set up in the 1990s, observing the style and the traditional methods of construction. The result is a masterpiece of Maramures crafts.
Joyful Cemetery and the Communism Victims Memorial
We leave our cycles to take a minibus to Sapanta, a village known for its unique "Happy Cemetery". Every grave is accompanied by a wooden sculpture and painted steel, with very vivid colours, which describes the life of the deceased person. Then, we will go to visit the Memorial of the Communism Victims, a museum situated in the former political prison, which will give us a sad testimony of the Romanian dark years.
Bucharest between east and west
Arrival at 7 AM in Bucharest, a city situated between east and west, between communist stigmas and triumphant capitalism. Possible extra night in Bucharest.
Departure board
From April to the end of October.
Technical information
Accommodation
Nights in guest-houses in double rooms, exceptionnaly 3. Generally one bathroom accomodation for 2 bedrooms.
Level of difficulty
9 days of which 5 cycling. Medium level (40Km a day, with usually gentle climbs and a few steeper parts).
Carrying
Luggage will be transferred from one guesthouse to the other.
Options
Bike rental : 70€
Single supplement : 75€
Extra night in Bucharest (double room with 2 breakfasts included) : 115€
GPS tracks on USB stick : 25€
Included
The nights, meals, roadbook, maps, luggage transfer, permanent local assistance.
Not included
Bikes rental, transfer to the meeting point and to the drop off point, insurances, drinks and personal expenses.